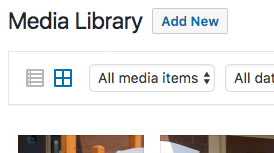 You may follow these instructions to publish a PDF link to a page or post.
First ensure your document is named appropriately for the web (see our tutorial on Proper File Naming Conventions).
Upload your file to the Media Library. Once in the Media Library you may drag files from your hard drive to the browser window or click the "Add New" button to open a file viewer dialog box. You can then locate the file on your hard drive and select it for upload.
Once the file is uploaded you'll want to copy the PDF file URL (the link to the PDF). You can find this by clicking the PDF file thumbnail.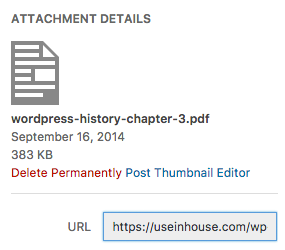 Next, edit the page or post where you'd like to publish the PDF. Type a sentence or phrase such as "View the PDF". Highlight this text and click the "Insert/Edit" link that looks like a chain link.

Click the "Link options" icon that looks like a gear or cog if you'd like to have the link open a new tab. Otherwise, click the blue "Apply" button to insert the link.

After publishing/updating your page/post it is advisable to view the content from the public side to ensure everything looks and functions as expected.
We hope this tutorial was helpful. As always, if you have any questions at all, please contact us.